In Data Integrity, the number of records you can sync to your CRM depends on the credits allocated to your Demandbase account. You can see your credit balance in the Data Integrity credit status bar.
Important:
Data Integrity stops syncing to your CRM when you've reached your credit limit.

Data Integrity only charges credits for newly enriched records.
To see your credit balance:
Go to the Data Integrity main dashboard.

See the credit management box at the upper right of the page. Click the

credits available

drop down to see your credit balance by object.

The status bar shows your credit balance.

Green - below 89% used

Yellow - 90%-99% used

Red: 100% used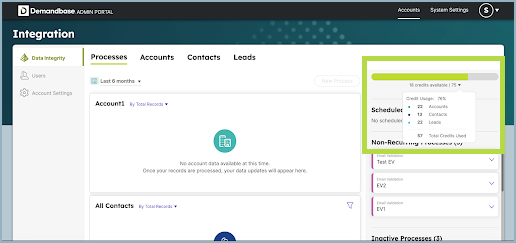 Tip: You may see a pop-up message when you've reached your Data Integrity credit limit or are near your contract end date. Contact your Demandbase CSM or account manager for assistance.