Step 1: Defining your Total Addressable Market (TAM)
To define your total addressable market (TAM), you'll first create market segments. Click on the Market Segment tab in the left-hand corner below the Apex Logo.

Once the screen loads, select the "New" button on the upper right-hand side.

Select the industries you want to target by typing them into the search bar or by scrolling through the industry list.
You can also specify if you want only primary businesses or if you would like to choose from subcategories as well.
Once you have finished selecting, click on the red "Finish" button in the upper right-hand corner.
Step 2: Visualizing your White Space
Step 3: Mobilize your Revenue Teams
Once published, companies that belong to that market segment will have a "badge" on the InsideView UI, informing your team that this company is a good target.

The instructions you published will appear on the record in InsideView under "Market Segments", giving Sales and Marketing specific instructions for when they encounter high-value accounts.

If you use Data Integrity, published market segments will also be tagged on incoming leads so that you know when new leads are part of your target market. You can use this information to route and score your leads so that high value leads to reach your sellers faster.
Step 4: Measure Revenue Performance
Once you've published one or more market segments, you can start tracking revenue performance across segments to verify that you have correctly identified your ideal customers.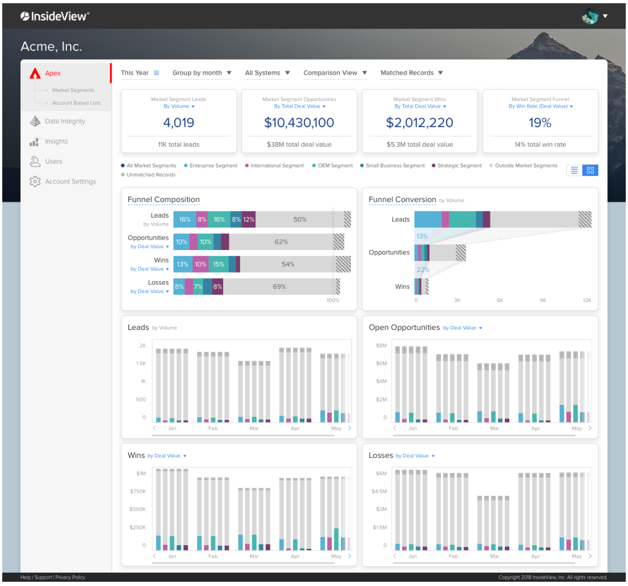 Compare conversion and win rates across segments to identify your best performing market segments and discover where your revenue teams are most successful.
If any of your market segments are underperforming, you can tweak your market segment definitions until you're confident that your revenue teams are focused on the best prospects.