About InsideView Data Integrity
InsideView Data Integrity helps CRM administrators solve their data and process challenges. InsideView Data Integrity goes beyond cleaning data to provide insights and visualizations to help companies improve the health of their CRM data.
What's New in v178?
This release of InsideView Data Integrity has the following new enhancements:
Review and Resolve Errors
InsideView Data Integrity Error dashboard gives you visibility of all errors that occurred during scheduled process execution. You can see the cause of the errors and correct them before the next scheduled process to ensure your data management processes run smoothly.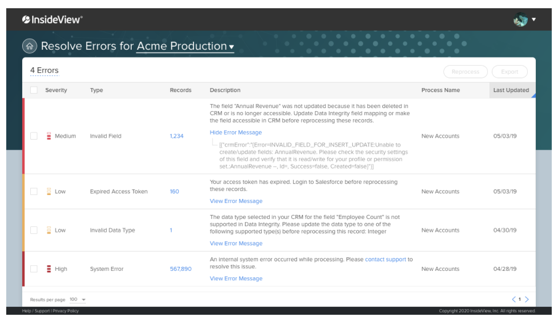 Data Integrity Enhancements
You can now perform the following actions in InsideView Data Integrity:
View a confirmation message when you accept/reject matches in bulk.

Set up a non-recurring process which will run at a future date and time

Map and sync "Ultimate Parent Site Count" to accounts in Salesforce and Microsoft Dynamics CRM.
To learn how to use the Data Integrity Error Dashboard and configure field mappings, read these articles in our Knowledge Base: