About InsideView Data Integrity
InsideView Data Integrity is a customer data management solution that cleans, monitors, and enriches CRM data to drive revenue and operational effectiveness. InsideView Data Integrity keeps your CRM data clean, so you always have a consistent and unified view of your customers and prospects.
In this release, InsideView Data Integrity integrates directly with Salesforce CRM to enable business decisions with accurate data for accounts, contacts and leads in your CRM. InsideView Data Integrity helps Salesforce CRM administrators solve their data and process challenges. InsideView Data Integrity goes beyond cleaning data to provide insights and visualizations to help companies improve the health of their CRM data.
What's New in v172?
Click the following links to browse through the feature updates and enhancements in the respective products:
New Features in InsideView Data Integrity
Data Integrity Dashboard for Accounts, Contacts, and Leads
InsideView Data Integrity dashboard now allows your account administrators to view how many records are updated over a period of time to increase operational effectiveness with better insights. The dashboard also highlights the total records that are updated by InsideView as well as how many fields have been updated in your Salesforce CRM.
Note: The Data Integrity dashboard for accounts, contacts, and leads is visible only to account administrators.
In the Account dashboard, account admins can see how many new accounts were created, how many have gone out of business, identify duplicates and how many family tree linkages were created. The dashboard highlights the value a customer is getting from InsideVeiw Data Integrity how they can see the current state of data in their CRM and how the data in the CRM looks like after the records are updated in CRM with Data Integrity processes.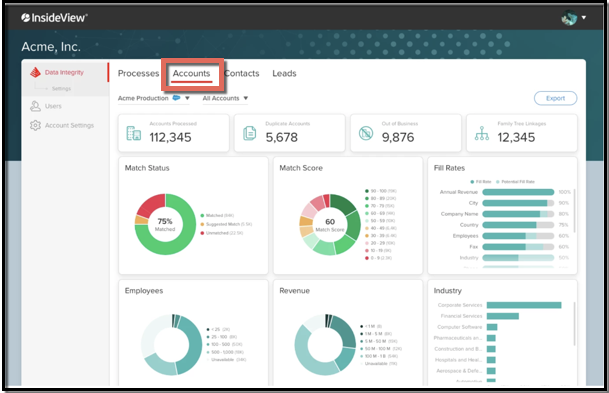 In the Account dashboard, you can view the following data:
Accounts Processed - Total number of unique records process during a period of time.
New Records Processed - Total number of new CRM records processed by a process during a given period of time.
Duplicate Accounts - Duplicate records are primarily highlighting how many potential duplicate records are present in CRM.
On the Contacts dashboard and the Leads dashboard, admins can see how many new contacts and leads were created, the number of duplicates identified, how many contacts and leads have a business email, the number of contacts with past employment, and the number of leads mapped to an account. The dashboard also shows the distribution of job level, job function, etc. in your CRM.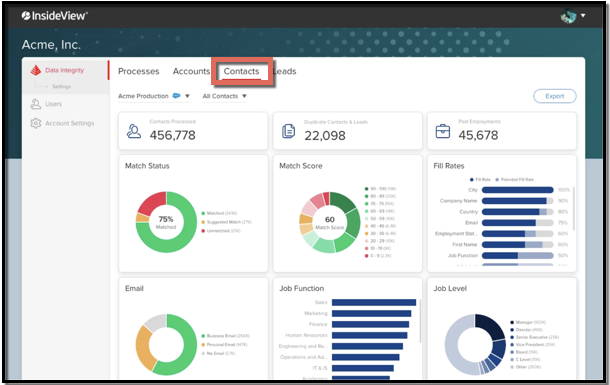 To learn how to view the analytics of the accounts, contacts, and leads in the InsideView Data Integrity dashboard, read the articles Reviewing Data Integrity Matches for Accounts, Contacts, and Leads & Visualizing Data Integrity Analytics for Accounts, Contacts, and Leads in our Knowledge Base.
Additional Resources
If you are a Salesforce customer using InsideView Refresh and/or InsideView Enrich, please reach out to your AM or CSM to discuss when it makes sense for your business to migrate to InsideView Data Integrity. They will show you how to migrate to InsideView Data Integrity.
Here are some additional resources to know more about InsideView Data Integrity: