About InsideView Data Integrity
InsideView Data Integrity helps CRM administrators solve their data and process challenges. InsideView Data Integrity goes beyond cleaning data to provide insights and visualizations to help companies improve the health of their CRM data.
What's New in v173?
This release of InsideView Data Integrity has the following new enhancements:
Review Matches in Bulk
InsideView uses an automated AI algorithm to determine the best possible match between your CRM records and InsideView data. Data Integrity admins now have more flexibility to review and change matches in your CRM account, contact, and lead records. By clicking on the match status column, you can filter and view records by match status.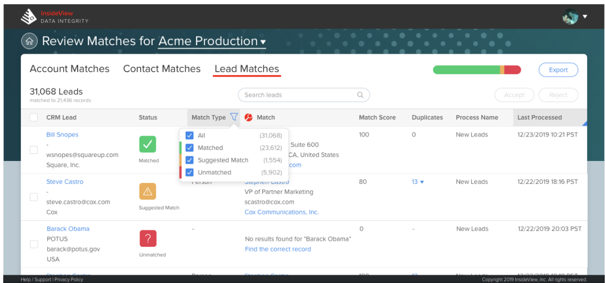 For matched records, you have the option to change the match. For suggested matches, you can either accept our suggestion or find a new match. Lastly, for unmatched records, you can search InsideView's database to find the correct match.
As part of the bulk review, you'll also be able to identify and resolve any duplicates in your CRM system.