About InsideView Target
With InsideView Target you can identify prospects faster and build precisely targeted Company and People lists. Using information from the InsideView database, especially company firmographics, job title, level or function, location, contact information (email and/or phone), news and social insights, you can create Company and People lists. These lists can be exported as Excel spreadsheet or synced seamlessly into your Marketo or Eloqua marketing automation application or Salesforce CRM with just one click. You can also download company and people lists and import them into other CRMs and marketing automation applications.
What's New in v159?
This release of InsideView Target has the following new enhancements:
Newer, Better Organized InsideView Target Dashboard
The InsideView Target dashboard has been revamped to enhance user experience and navigational aspects to help you find information easily. In a widely requested update, now you can add improvised and exhaustive classifications for Job Level and Job Functions to allow you to narrow down executives that you are looking for. With this enhancement, you can streamline the efforts of finding of executives with less efforts.
You can also now use a new Search Criteria page without any hassle to return backwards every time because you can modify the search criteria from the Results page itself.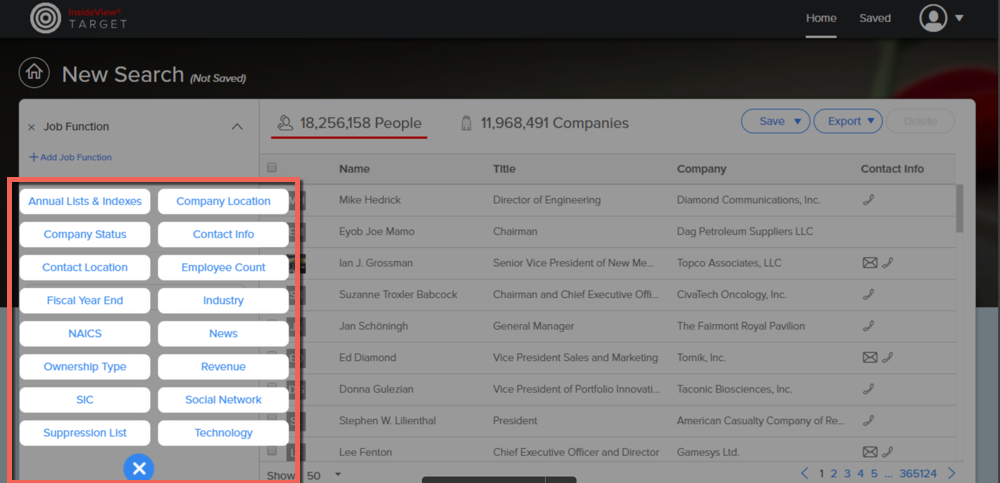 You perform the following tasks in the new dashboard:
Add New Search Criteria -You can now add a new search criteria from the InsideView Target Home or Results page itself. You no longer have to go back to the search page to add new criteria.
Start With a List - You can now easily start with a list of companies or perform a regular search to find people.
View Saved Lists or Search - View the list of saved searches or existing lists. You can also search for desired list from the Saved Search View.
To learn how to view executives in the saved lists or existing lists, read the following articles in our Knowledge Base:
Support for Direct Phone Numbers of Executives
InsideView Target now allows you to access direct phone number(s) of executives, provided the direct number exists in the InsideView database. With this feature, you will now have access to the direct phone number of an executive. InsideView's Direct Phone Number feature will increase the probability of directly contacting your prospect for better business outreach.
You can view the direct phone number from the Search Results page when you select an executive in the People tab as illustrated:

You can also export the Direct Phone numbers of executives to the Salesforce CRM, Eloqua and Marketo Marketing Automation Systems or in an .xlsx file.
In the .xlsx file the Corporate and Direct phone number will be exported in a separate column.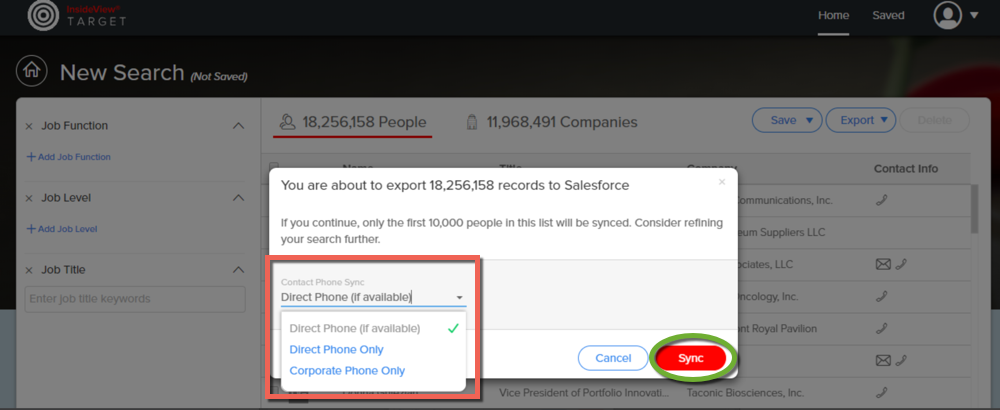 To learn how to view executives in the saved lists or existing lists, read the following articles in our Knowledge Base: