About InsideView Target
With InsideView Target you can identify prospects faster and build precisely targeted Company and People lists. Using information from the InsideView database, especially company firmographics, job title, level or function, location, contact information (email and/or phone), news and social insights, you can create Company and People lists. These lists can be exported as Excel spreadsheet or synced seamlessly into your Marketo or Eloqua marketing automation application or Salesforce CRM with just one click. You can also download company and people lists and import them into other CRMs and marketing automation applications.
What's New in v151?
This release of InsideView Target has the following new enhancements:
Ability to Sync Single or Multiple People Records to your CRM and Marketing Automation
InsideView Target now allows you to select single or multiple executives that you wish to sync to your Salesforce CRM, Eloqua or Marketo marketing automation application. With this enhancement, you have an option to export maximum number of records as per your remaining credit balance. Else, choose to sync a single or multiple desired records to keep a tab on your credit balance.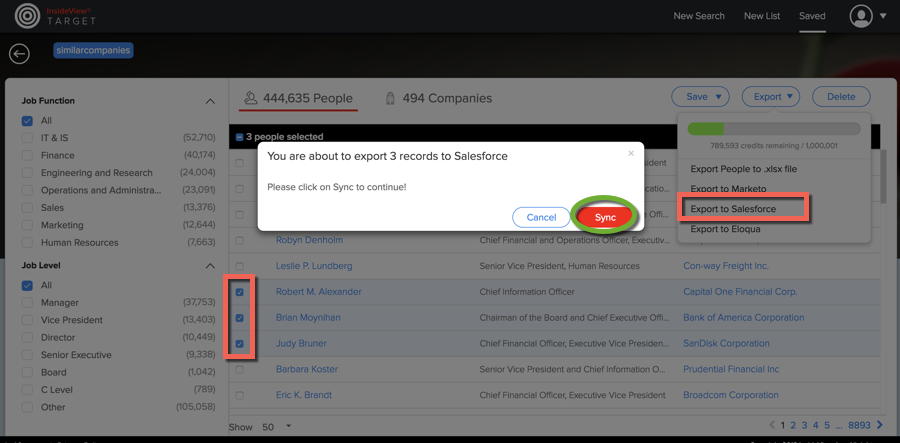 Note: You can also download single or multiple records from InsideView Target in an .xlsx file and import them in any other CRM and marketing automation application.
For more information, read the article How to Export a List of Companies or People from InsideView Target in our Knowledge Base.