Contents
About InsideView Apex
InsideView Apex boosts your go-to-market efficiency and effectiveness by letting you define, automate, and analyze your sales and marketing tactics. InsideView Apex gives you opportunity to do strategic planning by identifying market segments, whitespaces and targets for account based marketing (ABM) campaigns. InsideView Apex helps business leaders to:
Discover their target market and plan their strategy
Engage their best target opportunities and align teams around execution
Optimize and track performance against plan
What's New in v149?
The following new features are introduced in InsideView Apex.
New Features in InsideView Apex
Lead Analytics Dashboard
InsideView Apex now allows you to view analytics of leads from your CRM or Marketing Automation (MA) systems. It lets you visualize the performance of published market segments against leads over a period of time interval. You can also choose to compare multiple market segments in the Comparison view. With the Lead Analytics Dashboard, a CMO, VP of Sales or C-Level executives can analyse leads coming into your CRM or MA system based on the market segment and visualize performance against their target segments in real time to optimize for success and focus resources on the targets with highest potential.

For more information, read the article Visualizing Apex Analytics Dashboard for Sales Revenue, Leads and Opportunities in our Knowledge Base.
Rich Text Editor for Publishing Notes
InsideView Apex now lets you add notes in a Rich Text format when you publish a market segment. The Rich Text Editor dialog allows you to add text in the desired format using the tool bar to change font, text style, paragraph style, indentation, add hyperlink(s) or delete the notes. The notes that you enter in the Publish dialog will appear in same format whenever you view a company that matches with the published market segment in InsideView Sales application.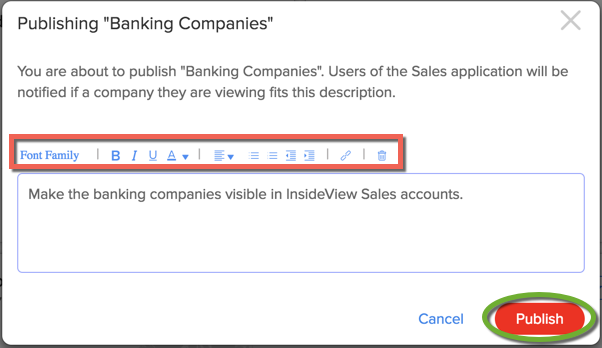 For more information, read the article Publishing and Unpublishing Market Segments in our Knowledge Base.
Known Issues
There are no known issues in this release.
Support and Feedback
For any technical issues, submit a request for technical support. InsideView's support team will contact you to address your technical problem.
Please share your feedback and ideas with us by sending an email to kb@insideview.com or click the Feedback button on the right-hand side of this page.