About InsideView Apex
InsideView Apex boosts your go-to-market efficiency and effectiveness by letting you define, automate, and analyze your sales and marketing tactics. InsideView Apex gives you opportunity to do strategic planning by identifying market segments, whitespaces and targets for account based marketing (ABM) campaigns. InsideView Apex helps business leaders to:
Plan

their strategy for their target market

Execute

their best target opportunities and align teams around execution

Win

and track performance against plan
What's New in v157?
This release of InsideView Apex has the following new enhancements:
Apex Analytics for Sales Revenue and Opportunities
InsideView Apex now allows your executive team and revenue leaders to view a complete sales analysis report with sales revenue in the pipeline and total number of won or lost opportunities. The Apex Analytics report now in addition to lead analytics shows you sales pipeline analytics that is generated by converting opportunities in your market segments.
The Apex Analytics report is useful for both Marketing and Sales teams. The Marketing teams can view opportunities in the pipeline, while the Sales team can focus on closing opportunities or target new business deals. This report aligns both teams and breaks the sales funnel in different stages of sales and helps you in conversion rates in each stage from (lead → opportunity → revenue).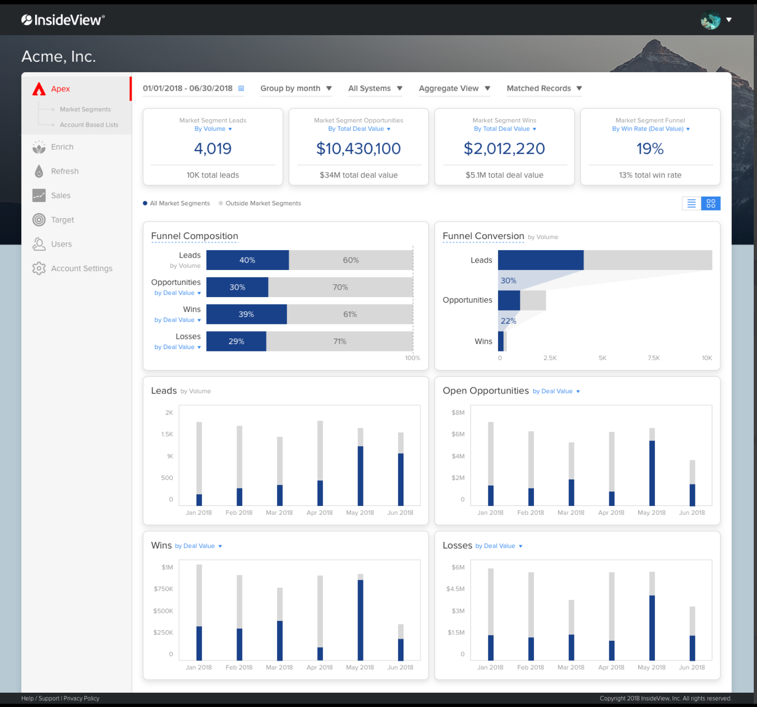 Note: In this release, you can view analytics for leads from Salesforce, Microsoft Dynamics CRM, Eloqua and Marketo Marketing Automations systems. The analytics for opportunity objects is supported only in Salesforce CRM.
To learn how to visualize the sales revenue and lead analytics report, read the articles Upgrading the InsideView Unified Package to View Apex Analytics Reports and Visualizing Apex Analytics for Sales Revenue, Leads and Opportunities in our Knowledge Base.