InsideView Insights lets you view usage analytics by user and license types over a period of time. Here's how you can view usage analytics:
Step
Description
Details
1
Log in to InsideView
Log in to InsideView Admin Portal with user credentials.
2
Go to InsideView Sales
Click the Insights link.

3
View account usage analytics
In the Usage Analytics Dashboard, you can view usage analytics data and segment the data using the following options:

Groups - lets you select All or choose any user groups that are available in your InsideView Sales account. This option allows administrator to view usage data for all users or specific group.

License Types - allows you to view the statistics of your usage data by license. You can select All License Types or select individual license types.

Note: Only licenses and groups that are assigned to existing InsideView Sales users in an account are visible in this list based on the selected date range.

Date - allows you to change the date range, either by entering custom dates or selecting any of these quick-select options:

All Time
Last 7 Days
Last 30 Days
Last 90 days
Last Year
Month-to-date
Year-to-date

Note: You cannot select a date that falls before 25-July-2018. The options that are striked out above, will be enabled once the date range becomes available.

Group Data By - allows you to choose how the data is grouped in the charts. You can select any of the following options:

Day
Week
Month
Quarter
Year

Note: These options are contextual and change as per the date range selected. For example, if you select the Year date range, you cannot group the data by Day.

4
Export usage analytics data
Click Export to export the usage data screenshot to a PDF file.
User Activity Data
This chart shows usage trends based on user activities, which is defined by the parameters set in the Utility row. You can view the following bar charts: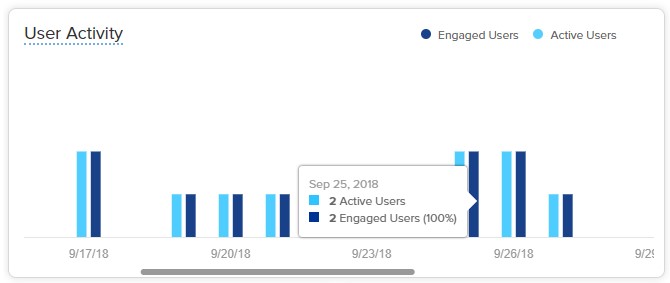 Engaged Users - shows the most engaged users in an account as determined by the number of days they interact with the InsideView Sales application during the specified date range.
Active Users -

shows the most active users in an account as determined by the number of days they load/view the InsideView Sales application during the specified data range

.

Note: The bar for each user in the Top Engaged and Top Active Users chart is updated based on the filters that you select.
User Setup Completion - Connections and Watchlists are some of the most useful features in InsideView Sales. Connections allow you to identify contacts in any company that you target to start business conversations. Watchlists allow you to track companies and executives at your customer and prospect accounts. For more information, read the KB articles Understanding Connections and About Watchlists in our Knowledge Base. In the setup area, you can view the following details:

Personal Connections Added: total number of personal connections uploaded by all users in the account.
Companies Tracked: total number of companies on all users' Watchlists in the account.